We have a word in German – Weltanschauung – literally for seeing the world, but in the meaning of philosophy of life or ideology. The point is: To know and understand the world, you have to see the world. The best way to do this, is to travel. It's an expensive affair, but you 've got to spoil yourself sometimes.
Two weeks ago I traveled to Barcelona, three days for exploration, rest and relaxation. To avoid me from getting lost like last year in Prague I carefully planned my trip and wrote a to-do-list, which areas I wanted to visit and shoot. I decided to take a zoom lens instead of a prime lens to be more flexible.
Barri Gòtic
The early bird gets the worm! Take off at 6:35 a.m. in Berlin, landing at 9:00 a.m. in Barcelona. An hour later I entered Barri Gòtic (Gothic Quarter), my destination for the next days.
Barri Gòtic
The city is exiting but this part of the town is magic and was exactly, what I've expected. Most of the buildings are from the late 19th century but some are from medieval times. The streets are very small, the buildings are tall and it seems to be a labyrinth. Sometimes I had problems with my navigation-app because of the urban canyon.
First stop was the market La Boqueria near the La Rambla with all kinds of food.
La Boqueria
Cemetery of forgotten books
I'm a fan of Carlos Ruiz Zafón and his novels. He was born in Barcelona and the city is an important part of his stories. I had the idea to visit a few places named in his tetralogy The Cemetery of Forgotten Books. There are apps for everything and I've found guidewriters. Unfortunately some coordinates in the included GPS guided me wrong, but with excerpts from the novels with the street names I found the places.
The Rest of the day was like meditation with open eyes. I strolled through the quarter, followed the endless streets, saw interesting people and took pictures.
Barri Gòtic
Barri Gòtic by night
Montjuïc and Joan Miró
Next morning was could and clowdy. I walked to Montjuïc, a hill with a fantastic view over Barcelona and the harbour.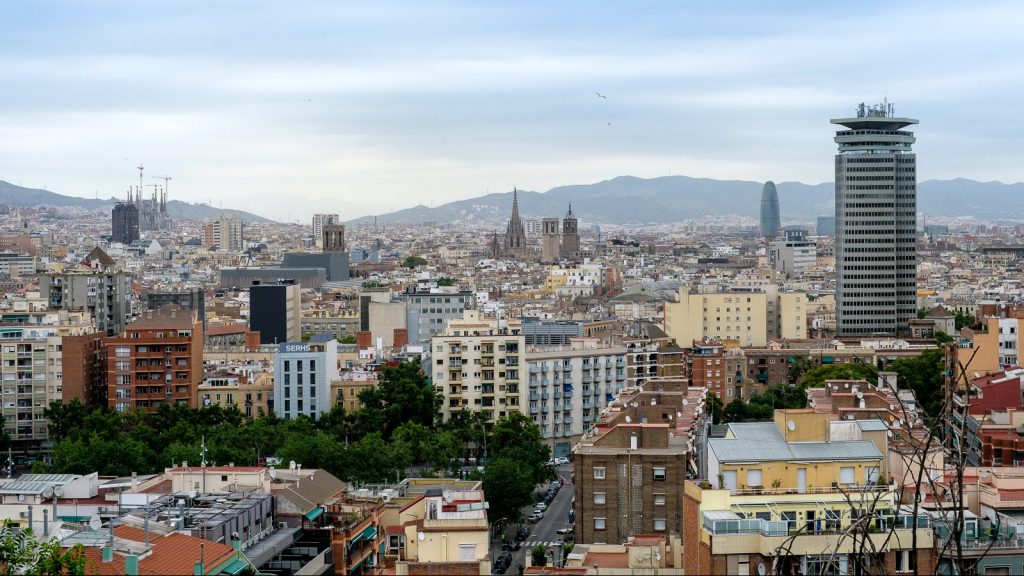 Barcelona seen from Montjuïc
There is a castle with a changeful history, which is also named in the novels by Zafón.
Castle Montjuïc
Only a few minutes from the castle by crossing a park is the Fundació Joan Miró with paintings and sculptures by this famous artist. I spend about two hours with an audio-guide there and was mesmerized by his work.
Fundació Joan Miró, exhibition
Sagrada familia
The basilica Sagrada Familia is one of the main attractions in Barcelona. It is advisable to timely book a ticket online. I did that early in the morning and got literally the last ticket for 7 p.m. the same day.
Basilica Sagrada Familia
The building is tremendous but in my opinion anachronistic. The idea or ideology is older than two thousand years but the architecture is external like a drip castle and internal like a set for a science fiction movie. The choir stalls have space for 700 singers, the height of the main tower will be 175 meter in 2026. Gigantomania at its finest, but very impressive.
Cathedral de Barcelona
Catedral de Barcelona
If I were religious, I would prefer this "old fashioned" Cathedral of the Holy Cross and Saint Eulalia for praying instead of the modern basilica. The cathedral has two "special features": A rooftop to enter with a nice view over Barcelona and a garden with fountain, pond and thirteen geese (I didn't count them, thirteen is for the age of Saint Eulalia, when she was killed by the Romans).
When the evening comes the area around the cathedral is filled with street musicians of all kinds. At a dark corner behind the cathedral I was drawn by a great voice. She sang the most passionate and melancholic aria of love I know. It was "Mon coeur s'ouvre à ta voix" from the opera "Samson et Dalila" by Camille Saint-Saëns. Usually it's a duet but it worked as a solo aria too:
Street Singer performs "Mon coeur s'ouvre à ta voix"
Parc del Fòrum
One point left on my to-do-list: Parc del Fòrum. Months ago I found a photograph on instagram with an interesting geometry of curves and arcs. I did some research and found that area. Unfortunately the park was already closed at 8:30 p.m. when I arrived. But I wanted to see that interesting construction and decided to come back the next (last) day. Well, that area is more or less made of concrete and looks in daylight some kind of ordinary. It is a location for events like festivals and concerts. The construction I was looking for was a playground! It was closed and surrounded by a fence! Fortunately there was a gap to enter and I used my chance.
Parc del Fòrum
On my way back to the metro station I walked through a modern part of Barcelona, found a nice little restaurant apart the touristic madness and enjoyed a paella maresca.
Paella maresca
What I've learned on this trip
It is a always a good idea to get up early, tourist attractions are overcrowded.
Traveling this way is expensive, very expensive! Attractions have often a heavy price tag! But it is mostly worth it!
Using public transportation (metro) is very helpful and not as expensive as I thought.
Using a zoom lens for traveling makes absolutely sense, it's fast and flexible. When I needed a certain angel (love to shoot in 35mm), I preset the zoom to that angel. The Fujinon XF 18-55 on my Fujifilm X-T2 is really sharp and fast enough for my purposes.
Carrying a tripod is nice to have but with the high-ISO-capabilities of my camera not a must have.
Traveling alone for the sake of photography is a bliss, your are only responsible for yourself.
Coming home with new impressions and experiences is a good compensation and basis for the upcoming responsibilities (family, work etc.).
At a certain point of my travel I lost the focus on photography and the hunt for a decisive moment. I enjoyed the "cruising" and strolling around. Being mindful at the same time I've seen more than I photographed, what in fact feels better than I would have photographed more than what I've seen. There was no time to ponder, no time for the annoying inner voice shaking my thoughts, no time for sadness. It was like meditation and satisfaction.
Sometimes it isn't about what we aim for, but how we get there.
That applies to a few parts in life, even for the pursuit of happiness. Believing this I state, travelling isn't a luxury but a necessity.
Bon dia!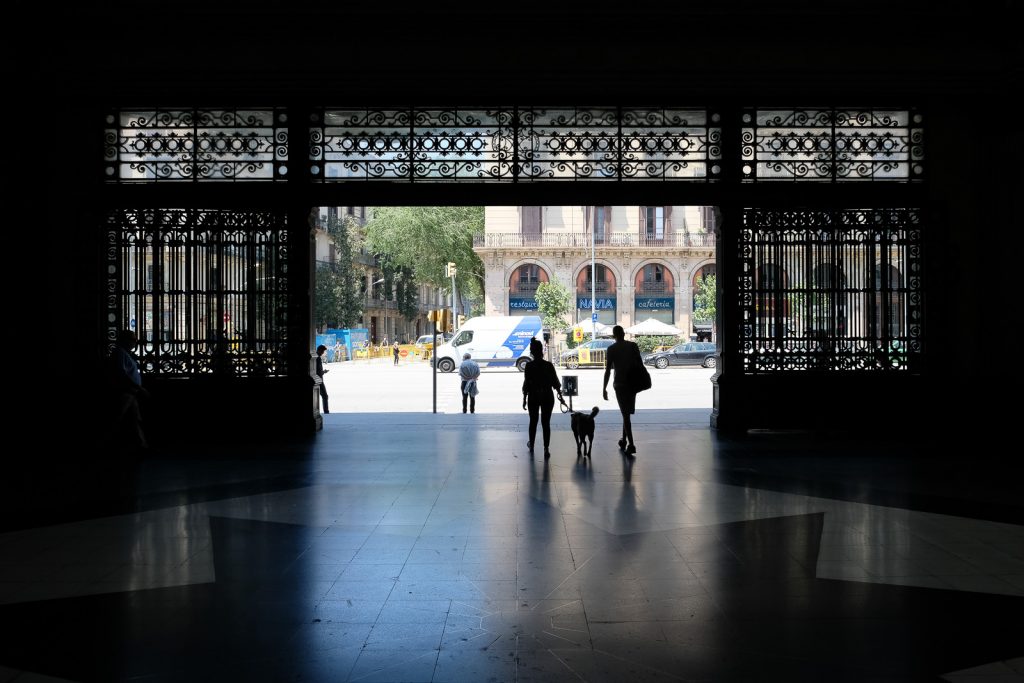 Estació de França